Bike / Motorcycle Shipping
Your Go-To for Bike and Motorcycle Shipping
Looking for how to motorcycle shipping to a remote location in the US? Xpel1 is a leading transportation company specializing in car transportation services. However, our services extend beyond cars. At Xpel1, we also provide efficient and reliable transportation services for motorcycles and dirt bikes. Whether you need to move your bike door-to-door or between distribution centers, we ensure that it gets to its destination safely and on time. Read on to learn more about our motorcycle and dirt bike transportation services.
Expert Handling of Your Bike
At Xpel1, we understand that motorcycles and dirt bikes require special handling during transportation. That's why we have a team of trained professionals who specialize in motorcycle and dirt bike transportation. Our team ensures that your bike is properly secured for transportation to prevent damage during transit. We also use specialized equipment to handle your bike, ensuring that it's not scratched, dented, or otherwise damaged.
Door-to-Door Motorcycle Transportation
Xpel1 provides door-to-door motorcycle transportation services. With our door-to-door service, we pick up your bike from your home and deliver it to your desired destination. Our team of professionals handles the entire process, from loading your bike onto our transportation vehicle to unloading it at the destination.
Distribution Center Motorcycle Transportation
Xpel1 also provides distribution center motorcycle transportation services. If you need to move your motorcycle between distribution centers, we've got you covered. Our team of professionals will pick up your bike from the distribution center and transport it to the desired destination. We ensure that your bike is delivered to the destination distribution center safely and on time.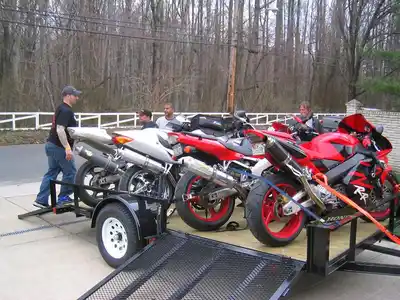 I recently used Xpel1's motorcycle transportation services to move my dirt bike to a new location, and I couldn't be happier with the service I received.
What impressed me most was the attention to detail that Xpel1 showed when handling my bike. I was initially worried about my bike getting damaged during transit, but Xpel1's team of trained professionals knew exactly how to handle it. They secured it properly and used specialized equipment to ensure that it arrived at its destination in pristine condition.
The best thing is that the bike was delivered directly to my house. Thank you!
Our Transport Services for Motorcycle Shipping
At Xpel1, we offer a range of Heavy Duty transport services to suit your needs. We understand that every shipment is unique, and that's why we offer customized solutions for each project. Our services include:
Open Transport – Our open transport service is perfect for Heavy Duty vehicles that are oversized or cannot fit in a closed trailer.
Enclosed Transport – For Heavy Duty vehicles that require protection from the elements or other external factors, we offer enclosed transport.
Expedited Transport – We understand that sometimes you need your Heavy Duty vehicle transported urgently. That's why we offer expedited transport services to get your vehicle to its destination as quickly as possible.